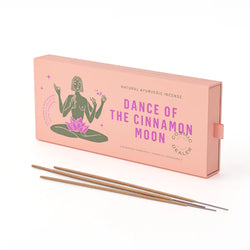 Natural Ayurvedic Incense - Cinnamon : Ceremonial Incense
CINNAMON


Be instantly transported
To a full moon ceremony, where kindred spirits dance in the light of a cinnamon-coloured moon.

What it smells like?
Cinnamon: warming, spicey vibes. Not overpowering or over-perfumed. Subtle.

ALL NATURAL, NO CHEMICALS, NOTHING SYNTHETIC
Made from 100% natural aromatic Ayurvedic herbs, woods and medicinal plants.
Vegan. Free from all the random stuff you find in suspiciously cheap incense like synthetic fragrances, animal fats and chemical fillers. Also free from essential oils.
The reason why incense can give some people a headache? Chemical fillers, synthetic and fragrances, and overpowering essential oils. Cosmic Dealer incense contains none of those things! They are pure, high-quality and plant-based.
Made ethically in a magical Ashram high in the Himalayan mountains by Yogis.
Contains 30 sticks, 14cm long (so not overpowering in small spaces).
BRAND: COSMIC DEALER