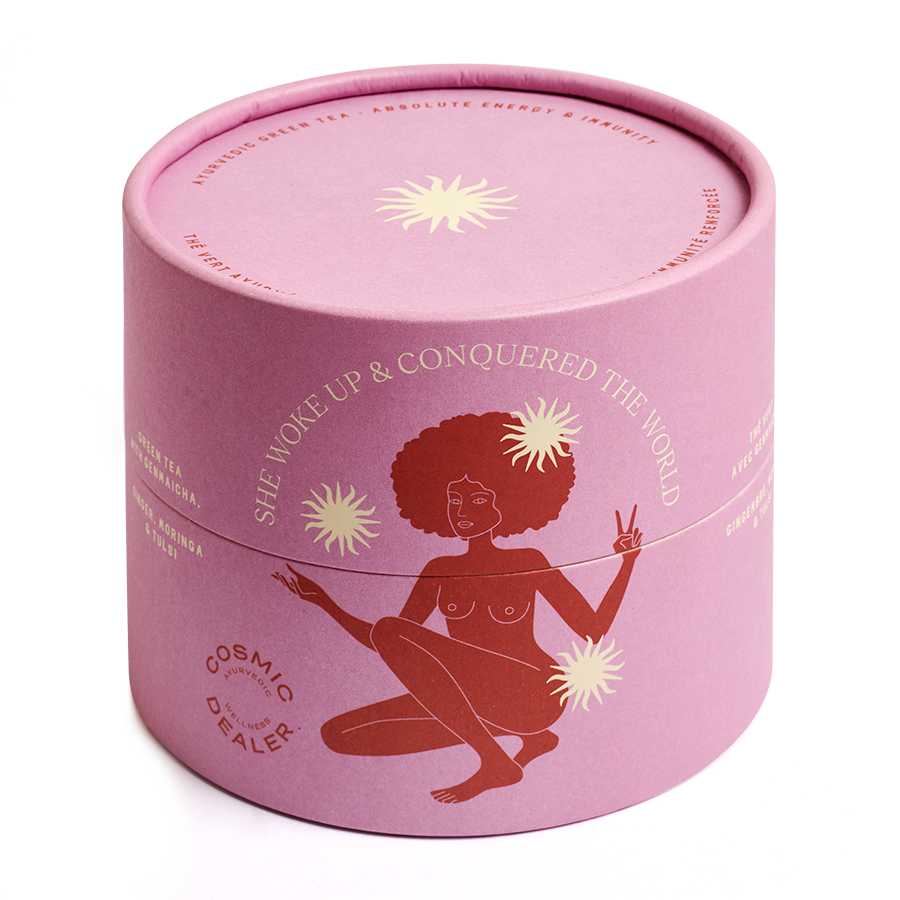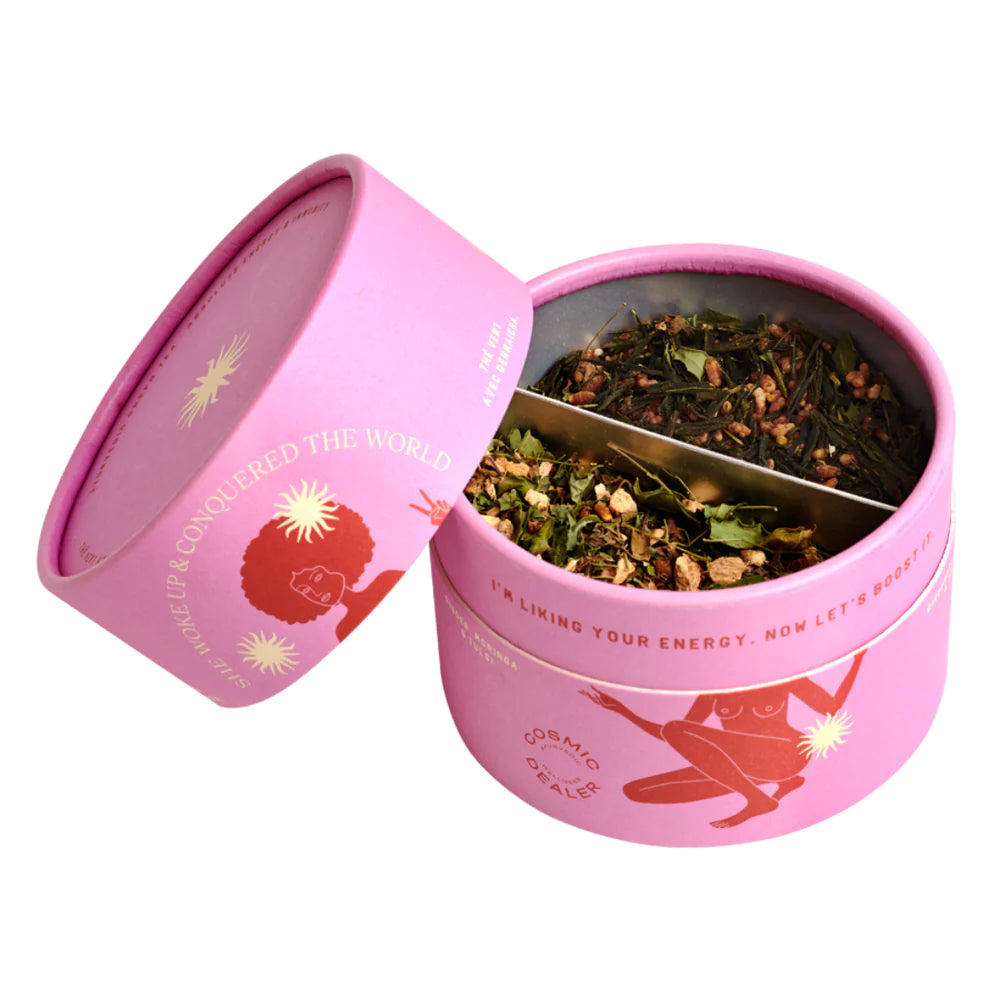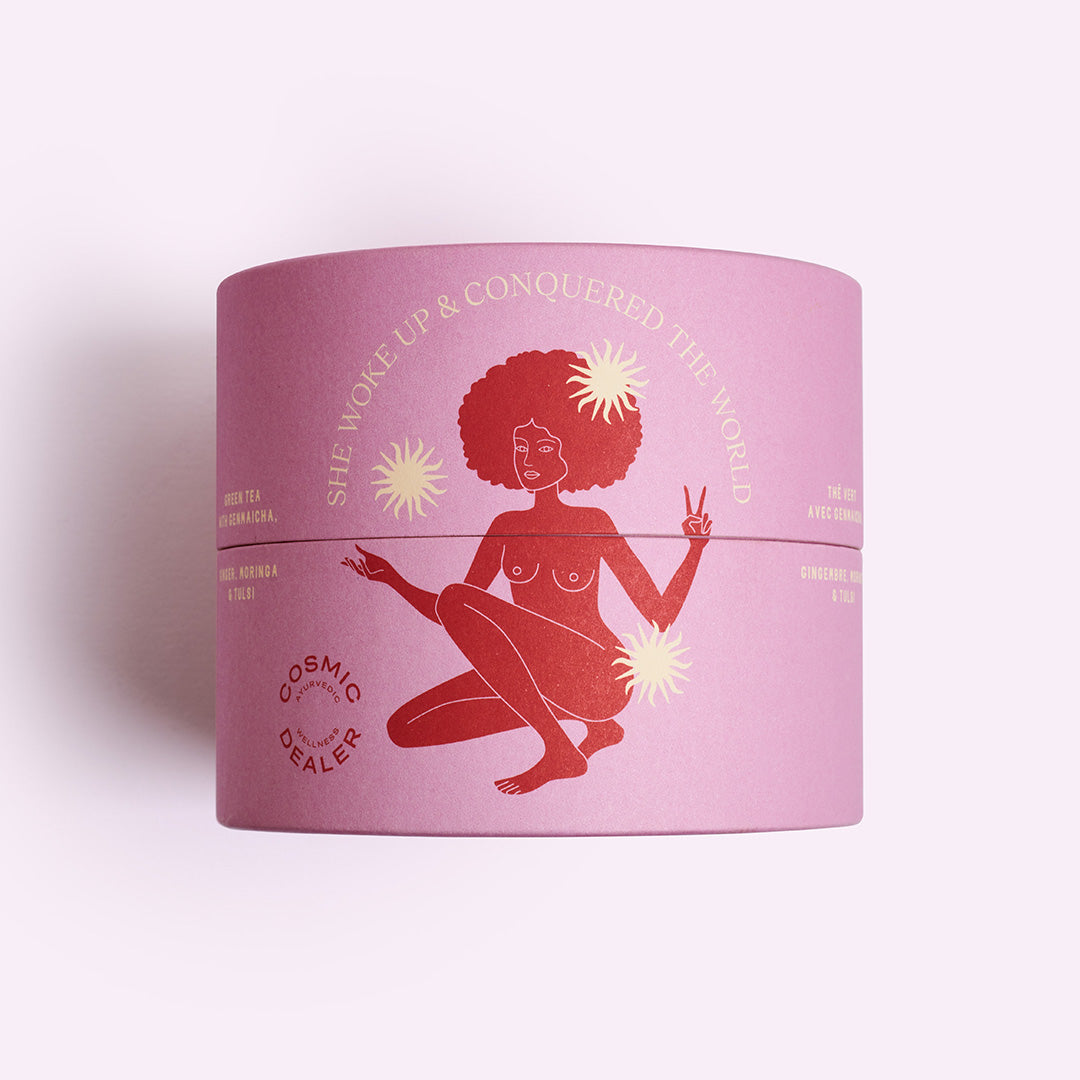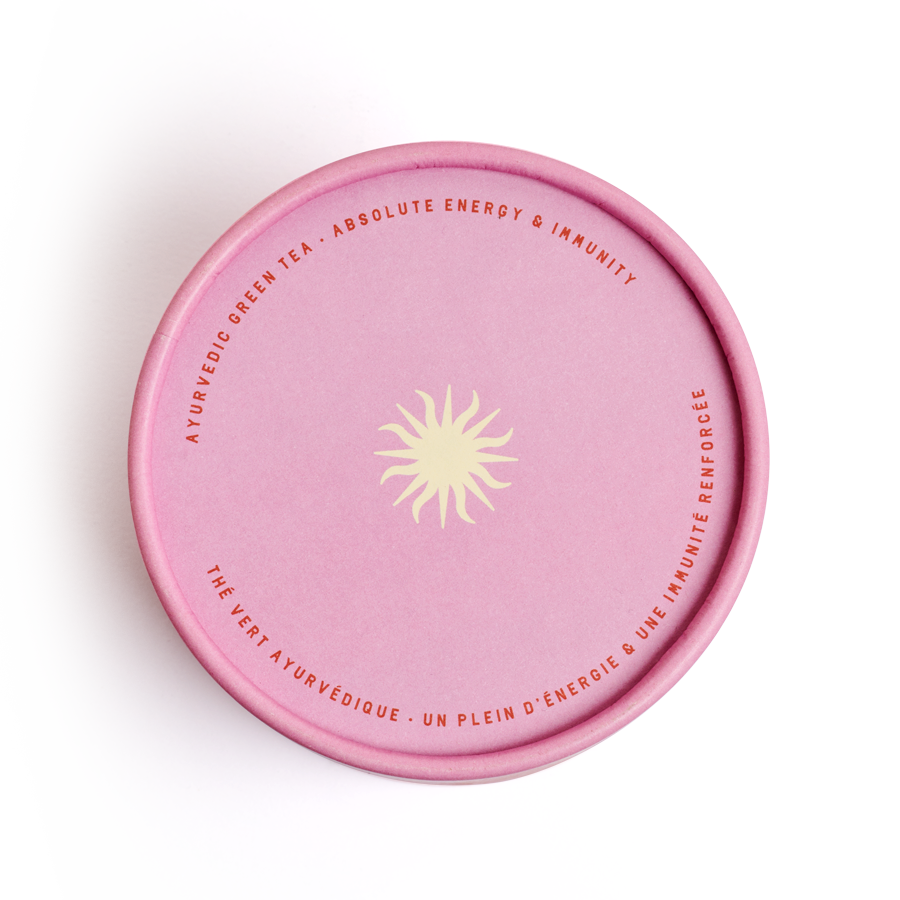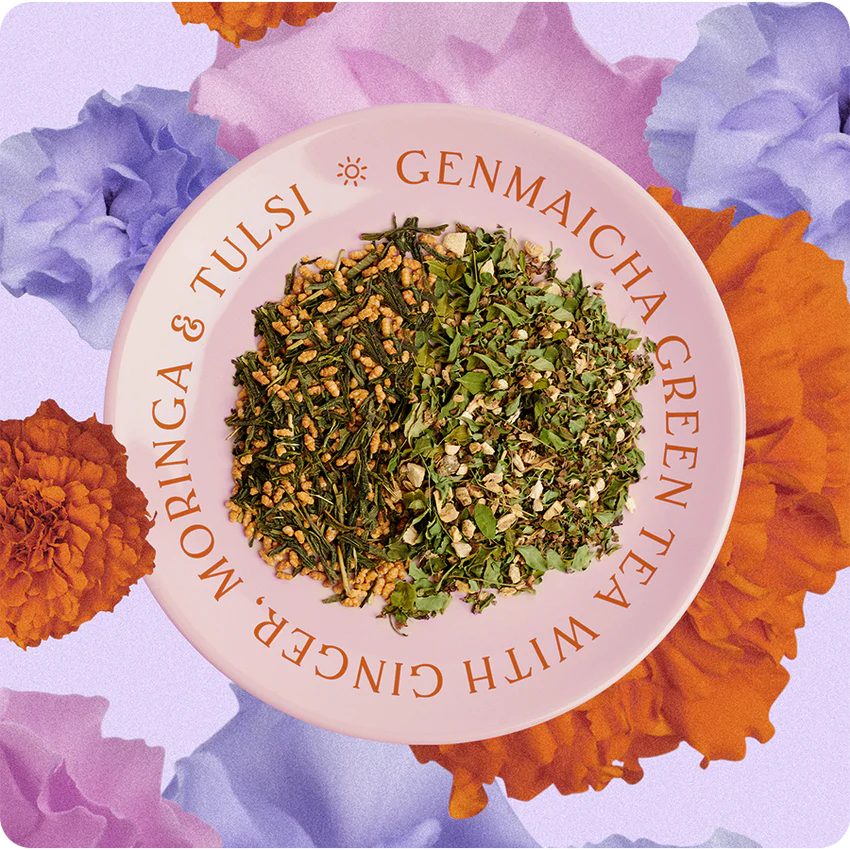 Ayurvedic Herbal Tea for Energy
Sale price

€13.60
Regular price

€16.00
(/)
---
SHE WOKE UP AND CONQUERED THE WORLD - Genmaicha Ginger Moringa & Tulsi
A vibrant, ayurvedic green tea for absolute energy and immunity by Cosmic Dealer.

This exquisite Ayurvedic Green Tea blend is meticulously crafted to infuse you with energy and enhance your immunity.
Embark on a revitalizing journey with the enchanting fusion of Japanese Genmaicha, roasted rice, and vibrant Sencha green tea. Each sip unveils a symphony of life and tantalizing flavors, igniting your senses and invigorating your mornings.
Discover the incredible power of Tulsi, a revered herb known as the "elixir of life" and celebrated as the "Queen of plants" in Ayurvedic medicine. This adaptogenic treasure, also called holy basil, acts as your secret weapon, fortifying your strength and bolstering your immune system, empowering you to face the day with resilience.
Natural energy boost is delivered by the harmonious combination of moringa and the tangy zest of ginger. These active ingredients work in synergy to combat sluggishness and infuse you with renewed vitality, reawakening your spirit and inspiring a sense of invigoration.

INGREDIENTS:

Green tea leaves,* Toasted brown rice,* Ginger,* Moringa,* Holy basil
*From Organic farming

80g
MADE IN FRANCE | ORGANIC | 100% NATURAL | VEGAN | NO ARTIFICIAL FLAVORS | NO ADDITIVES

CAN I DRINK THIS WHILE PREGNANT?
SHE WOKE UP AND CONQUERED THE WORLD contains green tea which is safe to drink in moderation during pregnancy, however it also contains tulsi (holy basil) which may not be recommended for pregnant women (there is limited research for and against).
If in doubt, we recommend asking the advice of a healthcare professional

ALLERGEN INFO
May contain traces of gluten, soy, peanuts, milk, nuts and sesame seeds. Our products are gluten and dairy free but as a precaution we state that traces could be present due to the fact that our herbal suppliers handle some of these items.
The grains used in the teas are GLUTEN FREE, but as a precaution we state that traces could be present due to the fact that our herbal suppliers handle some of these items.
BRAND: COSMIC DEALER
Eco-Friendly Packaging: We aim to be as environmentally friendly as possible. Most of our packaging materials are either recycled or eco-friendly. Our cushioning material is water soluble and nontoxic meaning it dissolves in water and can be used in your home compost

Discreet Worldwide Shipping: We ship our products worldwide in discreet packaging. There are no hints or mentions of the product's purpose anywhere on the packaging.

Important Information: As a recipient of the package, you are liable for all import duties, customs fees, and local sales taxes based on your country's regulations. Onna cannot be held liable if your package encounters any issues with local customs or tax authorities. Onna cannot issue refunds under such circumstances. To ensure a smooth shopping experience, we recommend checking your country's local terms and conditions for importing foreign products before making your purchase.
Onna pleasure wands and toys guide you in embracing a slower, more connected approach to self-pleasure, allowing you to experience it as an intimate act of self-love while awakening deeper sensations and expanding your body's pleasure potential. Opting for a non-vibrating pleasure wand over highly intense toys like vibrators will help you unlock a deeper sense of sensuality, pleasure, and self-love.

With five years of dedicated customer support, we've created a
user-friendly table featuring all our toy shapes. This tool is designed
to simplify your decision-making process, making it easier for you to
discover the ideal pleasure companion. Go to our pleasure wand guide.
Choose options