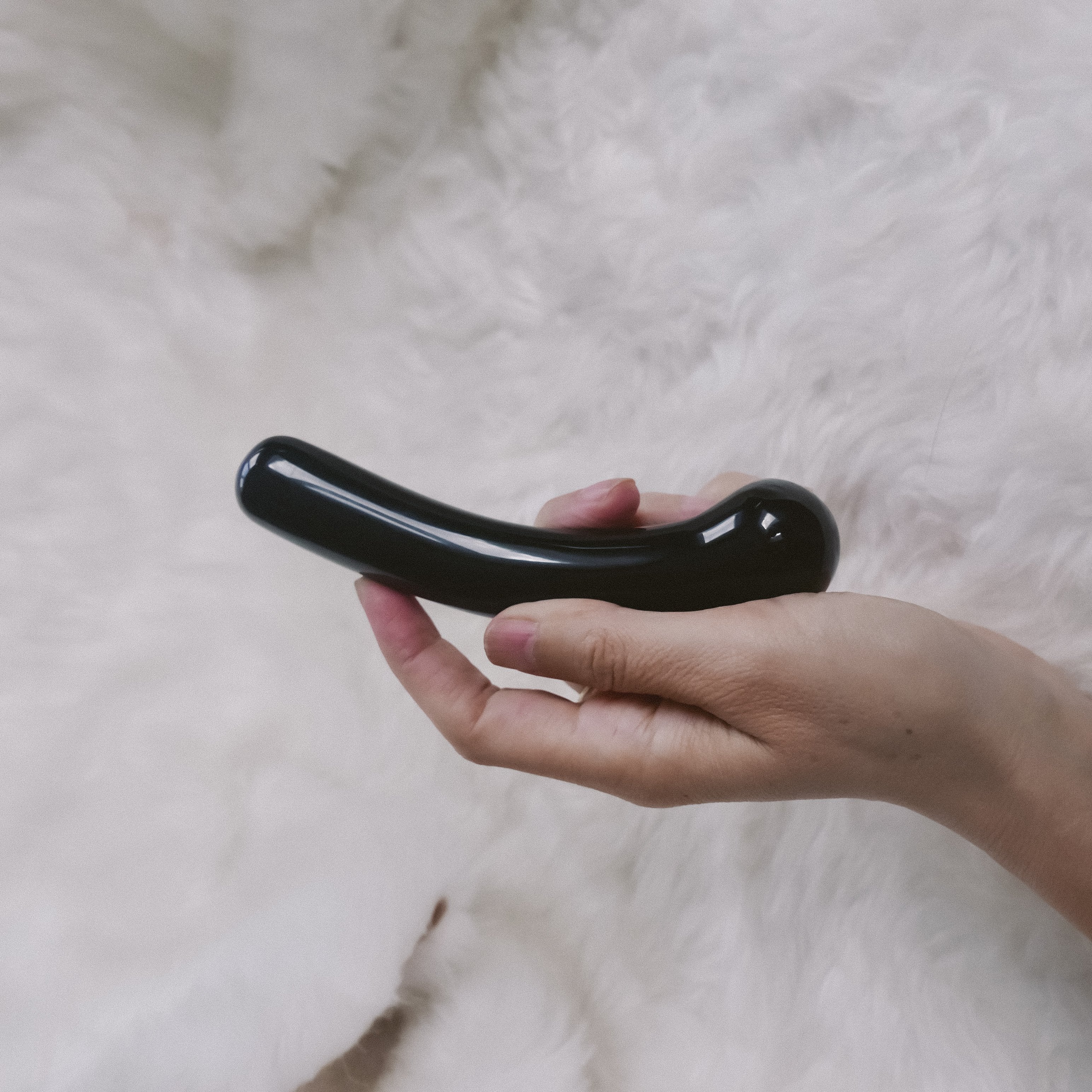 Raven Pearl Mini
Sale price

€109.60
Regular price

€129.00
(/)
---
G-SPOT ACTIVATION |  G-SPOT ORGASMS  |  SQUIRTING PRACTICE  |  PARTNER PLAY | ANAL PLEASURE

SHAPE: PEARL


Our original PEARL shape is our BEST SELLING toy! It is for a wild woman who yearns to indulge in self-pleasure.
PEARL MINI is just like her bigger version, just with a shorter shaft, and a slightly smaller bulbous end designed for a more targeted G-spot stimulation and G-spot activation practice.

It's unique bulbous shape, and a shorter shaft make PEARL MINI the perfect toy for accessing better internal sensation around G-spot and even squirting practice.

The G-spot is a textured section of erectile tissue located on the front wall of the vagina. Often, women find that G-spot stimulation leads to deeper, fuller orgasms. It can be difficult to stimulate with just a finger or a penis. PEARL MINI is perfectly shaped for effortless G-spot stimulation. The curve of the PEARL allows for easy handling and angling when playing solo or with a partner.

PEARL MINI  will take you on a wild ride of the G-spot exploration journey

PEARL MINI is for women who are new to penetrative self pleasure and wish to explore further the pleasure inside of the vagina

Great toy for practicing internal G-spot massage and activation


Can use both ends of the toy depending on the mood

The thinner end can be used for anal play and prostate massage


Insert either end of the toy inside the vagina and swipe from left to right in slow massage-like movements around the G-spot; tap the end of the toy on the G-spot either gently, circling around the G-spot, or in a rocking-like-motion back & forth, glide the toy in and out of the vagina, glide and twirl at the same time in and out.

Use either for solo or partner play
MATERIAL: Black Obsidian


SIZE: length 14 cm, width 3 cm wide end, 2.2 cm thin end
GUARANTEED TOP QUALITY
Onna Lifestyle gemstone pleasure toys are CERTIFIED by an EU Gemmology Institute for being 100% authentic.
All toys are designed & tested in Europe.
Each Onna Lifestyle toy is artfully carved from ONE solid block of real gemstone. Our toys are free from toxic glue, artificial colouring & wax.
We work exclusively with most durable stones which are body-safe and with factories who hold humane work practices.
Our prices reflect our top quality & product authenticity.
You are Special: each stone is unique and there isn't another like yours. All stones vary in patterns, hues and colours.
Did you know that gemstones are natural conductors of heat? Unlike common plastic and silicone sex toys, gemstone toys adapt and retain body temperature for over an hour. Toys can be used either warm or cold for temperature play. Keep them in the fridge (never freezer!) for a cooler calming effect or place under hot water for 30 seconds to warm up.
Gemstone toys can be used with any type of lubricant. We advise to thoroughly clean and dry the toys before and after use and/or to use a condom.
Eco-Friendly Packaging: We aim to be as environmentally friendly as possible. Most of our packaging materials are either recycled or eco-friendly. Our cushioning material is water soluble and nontoxic meaning it dissolves in water and can be used in your home compost

Discreet Worldwide Shipping: We ship our products worldwide in discreet packaging. There are no hints or mentions of the product's purpose anywhere on the packaging.

Important Information: As a recipient of the package, you are liable for all import duties, customs fees, and local sales taxes based on your country's regulations. Onna cannot be held liable if your package encounters any issues with local customs or tax authorities. Onna cannot issue refunds under such circumstances. To ensure a smooth shopping experience, we recommend checking your country's local terms and conditions for importing foreign products before making your purchase.
Onna pleasure wands and toys guide you in embracing a slower, more connected approach to self-pleasure, allowing you to experience it as an intimate act of self-love while awakening deeper sensations and expanding your body's pleasure potential. Opting for a non-vibrating pleasure wand over highly intense toys like vibrators will help you unlock a deeper sense of sensuality, pleasure, and self-love.

With five years of dedicated customer support, we've created a
user-friendly table featuring all our toy shapes. This tool is designed
to simplify your decision-making process, making it easier for you to
discover the ideal pleasure companion. Go to our pleasure wand guide.
Choose options